In 1995, after returning to the Bay Area from a 6-year stay in New York City, it became obvious that I needed a car. Since parking in New York City is one of Dante's levels of hell, I had managed to avoid car ownership for the first 6 years of my adult life. But now things were changing and I would need reliable transportation to navigate the freeways of Northern California. After researching price, safety, fuel economy and reliability, I settled on a red, two-door, 1995 Chevrolet Cavalier. Until Wednesday, it was the only car I have ever owned.
The writing was on the wall. Once we found out we were having twins, it was obvious that having a 10-year-old car with two doors was not going to be adequate to house the plethora of baby items needed when traversing around with two babies. We definitely needed a new car – a big new car.
So, on Wednesday evening I drove my car one final time to the Nissan Dealership where we purchased a slightly used (it was a rental vehicle) 2005 Nissan Pathfinder. The drive was a nostalgic one for me. Since I am a fairly emotional guy, I have to admit I teared up a bit when I finally had to say goodbye to my little Cavalier. I thanked it for its many years of great service and I told it it was worth way more than the $250 I got from the dealership for it. I gave it one last rub and said goodbye in the parking lot.
Getting into our new Pathfinder made me forget the Cavalier pretty quick, however. It's so awesome! For starters, it has so much power (insert Tim "The Tool Man" Taylor grunt here). It has so much power that I almost ran over the car in front of me while merging onto the freeway for the first time. It rides great too. The moon roof is nice and the tow package may come in handy some day but the best feature, in my opinion, is the Bose Stereo system. The speakers sound great and, best of all, the radio display screen tells you the name of the artist and song currently playing. Pretty nice.
So, now we have plenty of room, even after installing the two infant carrier bases (By the way, the Latch System on these new cars sucks. I ended up using the seatbelt again.). If you ever need a ride, just let me know. Of course, you'll have to chip in for gas. Let's just say it doesn't get quite the gas mileage my little Cavalier got.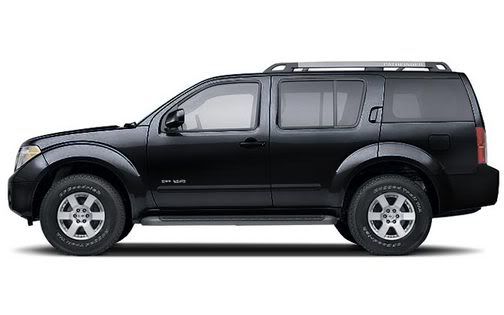 Our New Vehicle