To my girls…
Someday, you won't be little girls with ribbons in your hair and stains from Crayola markers adorning your hands. Someday, you will be all grown up and finding your place in this big, yet small, world. This is what I hope for you…
Despite much change, it's still a man's world when it comes to getting ahead in life. They shape how much you get paid, what you should wear and how you should look. Don't buy into that. The most successful women aren't the ones who accept the status quo – they are the ones that look the patriarchy in the eye without blinking and blaze their own path. I hope that you find the strength to be true to yourself – not to what any man (or woman, for that matter) thinks you should be.
I hope that you grow up not needing the embrace of a man to make you feel whole. I want you to know you are whole now. No man can give you what you already have inside.
But when it comes to settling down (if that's where your heart leads) I hope you find a man (or woman, for that matter) that each and every day feels damn lucky to be with you. And I hope you feel the same way. I hope you find that person that understands that two can be stronger than one.
I hope you never look at yourself in the mirror and think anything other than, "I'm beautiful." You are imperfectly perfect and being comfortable with who you are and not what anyone else – men or media alike – says you should be will lift you up when the world tries to drag you down. Be yourself. Love yourself. Nothing else matters.
And while we're on the subject, I hope you don't live your life based on what you think others will think of you. Don't waste energy on what other people think. Chances are, they are too worried about what others think of them to spend too much time thinking about you. Live your life! Be free from the chains of expectations that will yoke you to the ground like turkeys and prohibit you from flying with the eagles where you belong.
And finally, I hope you lift other women up rather than tear them down. There's room at the top for everyone and for every woman who is where they want to be, there are many more who could use a helping hand. Refrain from tearing others down to make yourself look better. Instead, give a helping hand and realize that your successes don't come at the expense of others, they come when you are true to yourself and to women everywhere.
Oh, and call your father. He loves you.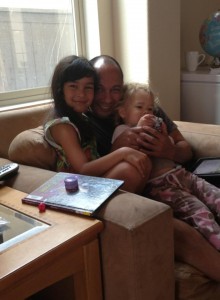 Those beautiful girls are blessed to have you as their father!

Comment by Michelle — April 6, 2013 @ 2:53 pm

I love this Matthew!!!

Comment by Lex — April 6, 2013 @ 7:40 pm
RSS feed for comments on this post.
Sorry, the comment form is closed at this time.