I don't do reviews. I get, on average, about 15 to 20 emails a day asking me to review some product or another. Some offering payment. Some not. I've rarely accepted these review opportunities because I wasn't familiar with the company and didn't use the product.
But that changed this week. The good folks at Red Envelope, a "unique and personalized gifts" website that I have used for the past several years (I bought two sets of these frames and some great family Christmas ornaments) contacted me about doing a product review for Father's Day. Because of my love of the company, I agreed. And they paid me for this review.
Now that I have the nice FCC requirements out of the way, let me tell you about the cufflinks I received to review. These cufflinks are made of stainless steel and great quality but it's the quote on them that I liked the best.  Each cuff link says, "All that I am and all that I hope to be I owe to you." These words, inspired by a quote from Abraham Lincoln, are a great reminder to me of what fatherhood is all about.
The cuff links were shipped in a nice red box with a ribbon and were placed in its own box inside (see photos below).  If you're looking for a great last minute Father's Day gift, I would highly recommend Red Envelope.  And I'd say that even if they weren't paying me.  (In fact, I think I have before!)
To see Red Envelope's Father's Day gifts, you can go here.  You can get a 10% discount on any item by entering the promo code: 10offred.  Tell 'em Matthew sent you! (I've always wanted to say that.)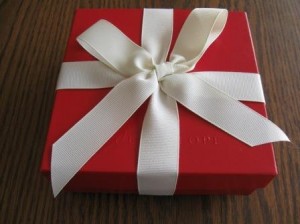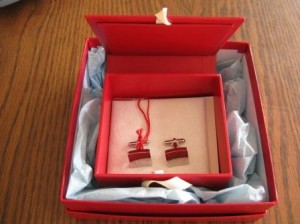 This is a paid post.
RSS feed for comments on this post.
Sorry, the comment form is closed at this time.