Once upon a time, I had beautiful hair.  The lady who cut my hair in high school even told me so. In fact, when I wanted a buzz cut my senior year in high school, she refused to cut it.  I had to go to a barber to do it.  In retrospect, if I had known that my hair would start thinning out soon after, I might have kept the longer locks for as long as possible.
Now, I wear my hair cut pretty short.  But I still have hair.  I like my hair and I would like to keep it.  In fact, there's only one reason for me to consider my head without hair – raising money to help the families we serve at YMCA where I work.   So…
Starting today, I want to raise $1,000 via this blog.   On my YMCA blog, there is a "donate" button on the top right corner.  Click on it and make a donation.  In the "Comments" section, leave a short comment referring to my baldness.  Any amount – no matter how big or small – makes a difference.  If we get $250 dollars in donations in the next week then I'll shave my goatee.  If we get $1,000 in donations by next week then I'll shave my head too.  I"ll then post a video of me shaving my head for you to laugh and ridicule me.  Well, even more than you already do.
Remember! It's for the kids and families we serve.  Your donation helps us fulfill our vision of never turning anyone away due to an inability to pay.  You can read some of the past few stories on this blog to get a feel for the type of need we encounter on a regular basis.  Then, donate. To help a child – and to see me bald.
Deadline is Wednesday, March 3rd at 5:00 p.m. PST. Hurry up and make me bald!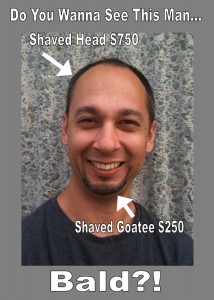 How about I donate $$$ for you to NOT shave your head?
Where did I put those old pesos?

Comment by Grandmother — February 24, 2010 @ 6:20 pm

I know it's for a good cause and everything…but I'm going to see you bald shortly anyway!

Comment by Aunt Raina — March 1, 2010 @ 11:42 am
RSS feed for comments on this post.
Sorry, the comment form is closed at this time.