When I was a kid, I used to be afraid of old people. The part that freaked me out the most was the fact that they could take their teeth out. The thought of someone without their teeth still gives me the heebie-jeebies. This has me concerned because TheMonk still does not have a single tooth. And until today, Swee'Pea didn't have any either.
But now, ladies and gentlemen, I am proud to announce that my daughter has a tooth. No longer will she have to gum her food! No longer will she be defenseless against a brother intent on stealing her binky! No longer will her school-mates be able to call her Gummy Bri! And no longer will her daddy worry about her giving people the heebie-jeebies later in life. She has a tooth!!!
Let the record show that Swee'Pea has produced her right central incisor at 10 months, five days. Never mind that the average baby produces this tooth at 7.8 months. It just goes to show that TheMonk and Swee'Pea are NOT average. I could have told you that. (And don't worry, TheMonk. Years from now they'll call you eccentric which is a lot better than Gummy)
What is most impressive is that we really had no idea that she was teething. In retrospect, she might have been a bit crankier than usual but nothing out of the realm of normal. She did have a runny nose the past couple of days and she did wake up unusually early on Saturday and Sunday but who knew she was teething? Not me. I'm going to have to work on her communication skills. I mean, we've got Orajel and Infant Tylenol all ready to go, just for situations like these and she goes and does it naturally.
So, if you want to see what a girl with her first tooth looks like, I'm happy to oblige. Behold, the one-tooth wonder!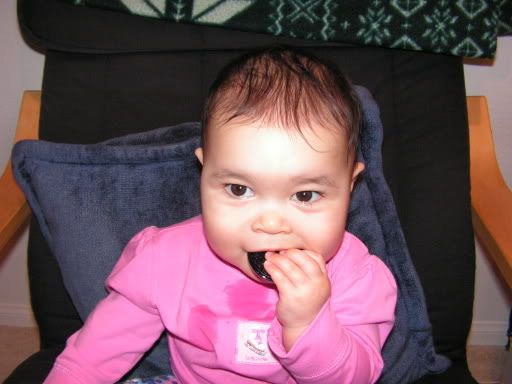 Bri chewing on Daddy's camera lens cap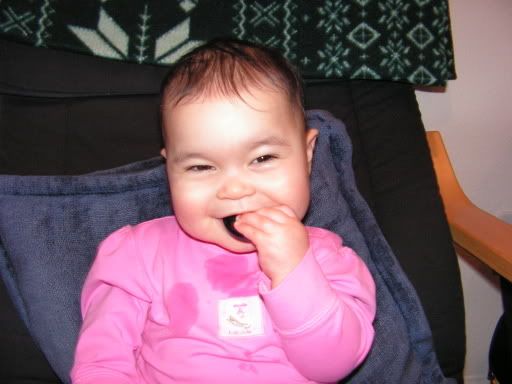 Daddy, this would taste a lot better if it was a cookie!
RSS feed for comments on this post.
Sorry, the comment form is closed at this time.