I'm a very competitive person. I once dove for the finish line in a 200 meter race and broke (and dislocated) my wrist (I won the race though). Two weeks later I was competing in a full arm cast. I wasn't about to let a little broken bone keep me from competing.
Well, here in blog land there isn't much competing. We all visit those sites in our blogosphere neighborhood, leave a nice comment or two, and move on. I was perfectly happy to be doing my thing, writing about the humor and love I have for TheMonk and Swee'Pea, when Dutch, Aginoth and Juggling Mother honored me by nominating me for Best Daddy Blog at the BoBs (The Best of Blogs).
Now, I was very honored that these people felt compelled to nominate me. But, boy, did it stoke some competitive fires in me! Well, to make a long story short, I did not make it as a finalist. I was going to write some "teachable moment" post to TheMonk and Swee'Pea about handling disappointment but that would be a bunch of crap. So, no post.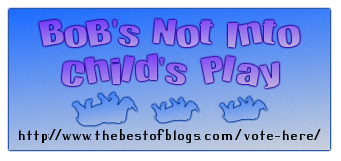 But then I did get to thinking that some great bloggers who happen to be on my blogroll, who I happen to correspond with fairly regularly, did make it as a finalist. So, I thought, maybe I should put aside the disappointment and cheer on my fellow teammates.
So, I'm going to start campaigning for my fellow bloggers. I hope you'll vote for the following wonderful bloggers.

New Blog of the Year
Can there really be any other choice than Sweet Juniper? This husband/wife team is so creative and fun to read that one wouldn't know that this is a "new" blog. Besides, Juniper is so frickin' cute it's scary.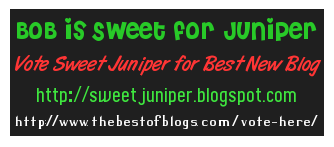 Best Daddy Blog
Now, three blogs that are on my blogroll are finalists. Dadcentric, Shotgun Daddy, and Cynical Dad. Out of the three, Chag at Cynical Dad is the only one who consistently tells me how cute my kids are. So, if I couldn't make it then I want Chag to win. He claims he just wants enough votes to not be last. I think we can do better.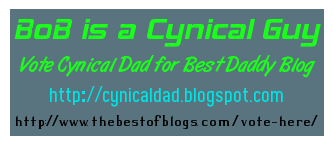 Best Mommy Blog
This was a tough one for me. Both finalists that are on my current blogroll are dear to me in different ways.
Morphing Into Mama
actually sent me and my wife a Christmas gift this year. How cool is that? Plus, she didn't win for high school class president so I figure she's due.
Friday Playdate
, on the other hand, has always been a great commenter on my site. So, it's a toss-up and I'm going to vote for them both.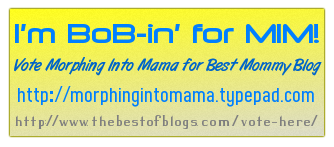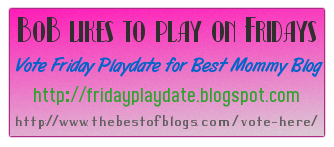 So, that's my trumping for the candidates. Go and visit the other blogs who were finalists as I'm sure they're all deserving. Remember, vote early and vote often.


(Feel free to use the graphics above for campaigning purposes)
RSS feed for comments on this post.
Sorry, the comment form is closed at this time.